Thursday, October 25, 2007
stolen form Juxtapoz



ESPO a.k.a. Stephen Powers' career as an artist started in Philadelphia at the University of the Arts. After a loss of interest in studies, Powers turned his attention to street art and used his junior years tuition to publish "On The Go" magazine. His street art had a distinctive style and quickly gained him respect amongst his peers.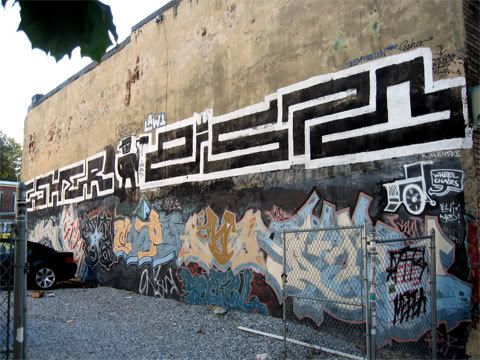 In 1999 Powers Stephen Powers wrote "The Art of Getting Over", a photographic documentation of some of the best graf of the time.

With new residence in NYC, Powers continued his street art with ferocity. With the name ESPO painted all over the city, the law finally caught up with him and he was indicted on a six-count felony which cost him a total five days community service.





In May of 2000, Alex Baker curated an exhibit "Indelible Market" at the Institute for Contemporary Arts in Philadelphia featuring the work of Barry Mcgee, Todd James and Stephen Powers. The larger than life installation contained billboards, signage and an authentic recreation of a bodega complete with mock products and pinball machine. In association with this show the artists created billboards for the West Philadelphia community. This particular show, "Indelible Market," was then picked up by Deitch Projects in New York and titled "Street Market."

With a new direction in mind, Stephen's moniker "ESPO" turned out another interpretation: "Exterior Surface Painting Outreach." He incorporated this name into a beautification project around NYC, painting steel security doors for different businesses. www.graffiti.org/espo

In 2004, Stephen participated in one of the most epic art exhibitons to date, "Beautiful Losers." This show, curated by Aaron Rose, has been on tour for the past three years and continues to Australia and Asia next year.

In the same year, Stephen teamed up with Creativity Time and created a Coney Island amusement park revitilization project called "Dreamland Artists Club." With some help of his friends (who happen to be some of the most influential contemporary artists) the Dreamland Artists Club took on the task of creating beautiful signs and banners all over Coney Island amusement park, bringing to life to an age old summer destination. This project lasted three years before the park closed indefinitely in August 2006.

Stephen's art has also been used commercially for projects such as album artwork for Tommy Guerrero and Plastic Little.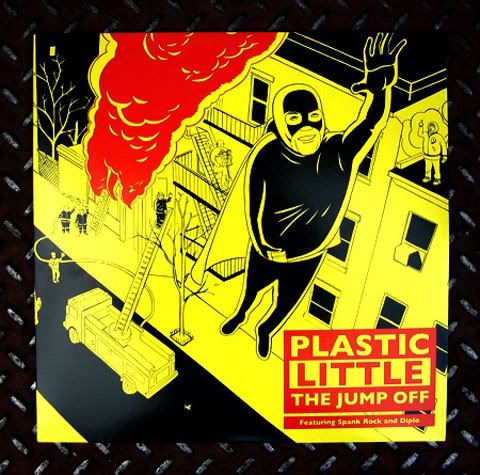 Once again, Stephen has teamed up with Alex Baker for an exhibiton at the Pennsylvania Acadamy of Fine Art in Philadelphia, titled The Magic Word. The exhibit opened Saturday, October 20th and runs through January 27th. This work directly correlates with Powers signature style, integrating signage and emotional icons. (More information about this show is on the PAFA's website, www.pafa.org.)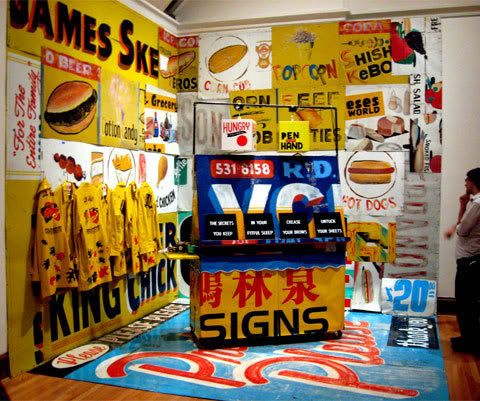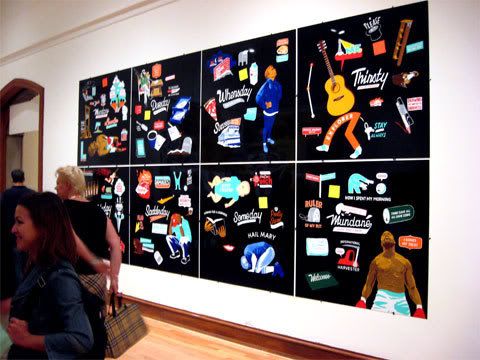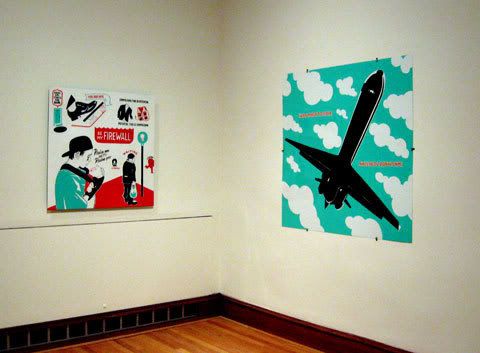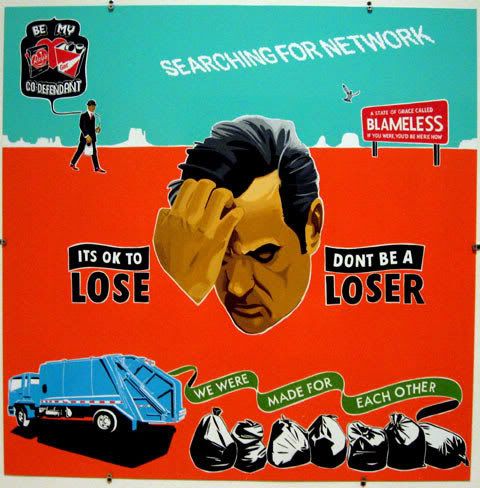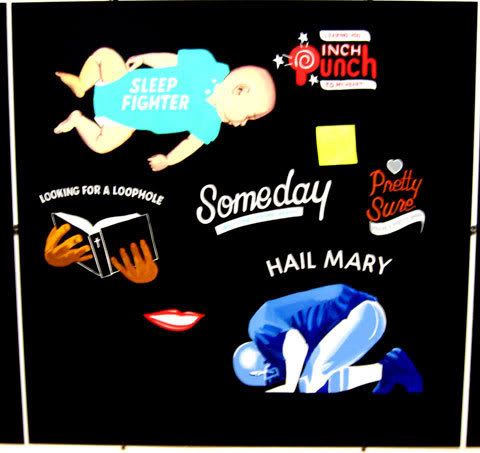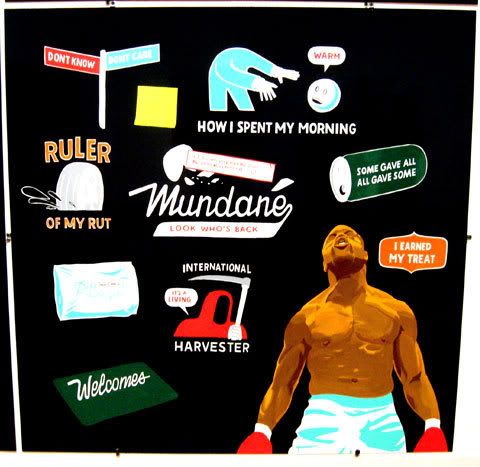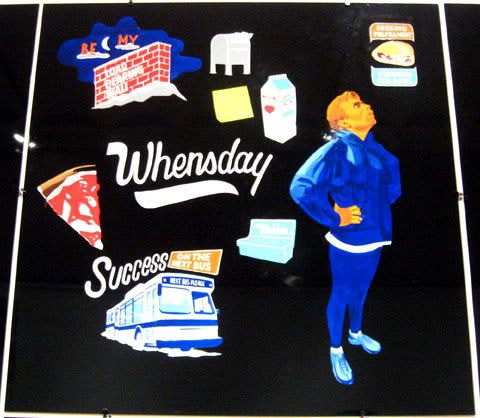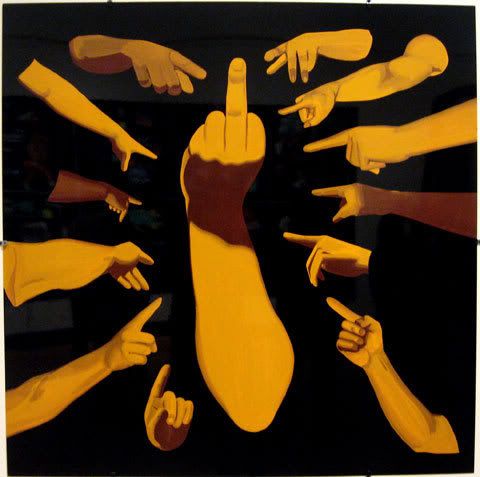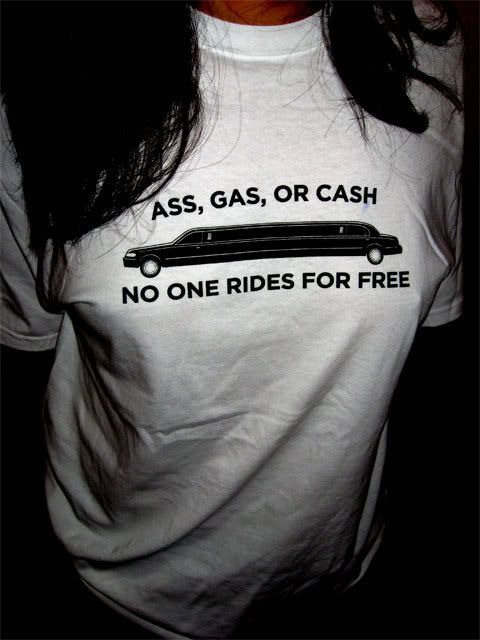 "The man, the myth, his baby and his friend"

Keep your eyes peeled for a feature story on ESPO aka Stephen Powers in an upcoming issue of Juxtapoz Art & Culture Magazine
Posted by CCTV at 1:35 PM 4 comments